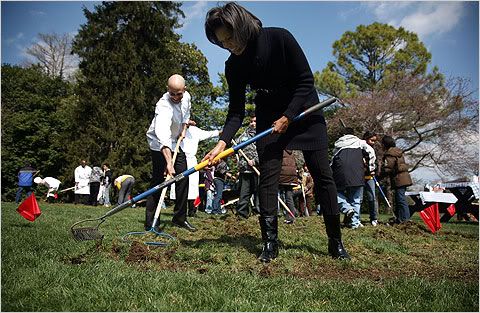 In the near future White House will harvest vegetables. Perhaps in this week. Said First Lady of The United States Michelle Obama, Thursday (9 / 4), when he guest students of primary schools in the White House garden.

To that students, Michelle said, in this weekend the garden will be harvesting lettuce and spinach. "Isn't that interesting?" Michelle said to dozens of children from Bancroft Elementary School. "This is easier than planting the grass," she said again.

Designed as a vegetable garden for the kitchen throughout the year, land area of 102 square meters is set to produce a variety of herbal, such as spices, sage, and rosemary, and various vegetables such as lettuce, radish, pea, blueberry, and frambus fruit (raspberries).

To those students, Michelle stated again that the vegetables garden in the White House is the first since Eleanor Roosevelt made a Victory Garden during World War II and expected to stimulate the United States prefer to eat fruit and vegetables.