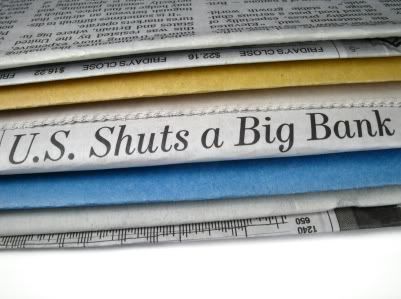 Three banks in the U.S. namely American Southern Bank in Georgia, Michigan Heritage Bank, and First Bank of Beverly Hills in California ordered to halt the operations, so that, this year, the total banks that has been closed in this super power country is 28 banks.

Increasing the number of banks that closed during the ongoing price of home ownership credit getting slump. This also the result of unemployment hikes which then caused individual and business can not afford to pay off their debt.

However, the investors in the U.S. stock exchange is not considering the health condition of these banks. A number of Latin American stocks also recorded the highest increase of their transaction closing in the last few months. The increase in Latin American stocks happen when investors do not too worry to local economic data that are worsened.

Dow Jones Index in the Wall Street stock rose 119.23 or 1.5 percent, and closed this weekend at the end of 8076.29 after soaring 117 points. Leading index in the Wall Street exchanges also increased. Index The Standard and Poor's 500 rose 14.31 points, or 1.7 percent and closed at 866.23 and the Nasdaq composite index jumped 42.08, or 2.6 percent, and closed at 1694.29.