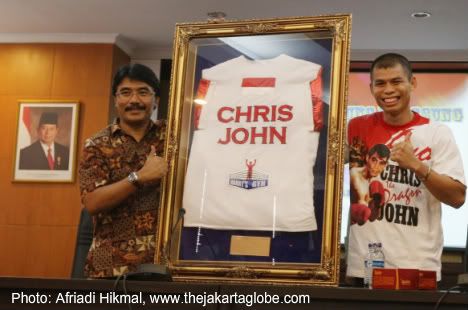 Chris John, a World Featherweight Champion from Indonesia, finally achieves the Super Champions title from the World Boxing Association (WBA) as successfully maintain his titles for 10 times without dropping out.

Chris John when contacted by journalist on Sunday, said the title is received Saturday (27 / 6) at 18:30 local time at the Staples Center Los Angeles United States.

According to him, the title is given directly by the WBA president, Gilberto Mendoza Jr. witnessed by Ministry Secretary from Ministry of Youth And Sports and hundreds of Indonesian citizens in Los Angeles.

Super Champions title necessarily should be given to him at the WBA convention Cartegana, Colombia, 29 March to 2 April 2009 and at that time Chris John acts as guest of honor. But it was canceled and the delegation of the WBA plans to give the title while Chris John be in Los Angeles for preparation of the rematch against Rocky Juarez.

Indonesian Boxer with nickname "The Dragon" got his Super Champions title after successfully defend the title in 10 times without dropping out of contention. The tenth fight in order to maintain that titles was when up against Japanese fighter Hiroyuki Enokidi Tokyo Japan, 24 October 2008.

But until now this husband of former wushu athlete from Central Java Anna Maria Megawati is already 11 times maintaining his titles and he only got a draw (tie) result at his last time fighting against Juarez at Toyota Center in Houston, Texas, 28 February 2009.

From 11 attempts to defend the title, five of them through mandatory fight, firstly against Jose Cheo Rojas from Venezuela, then against Mexican Juan Manuel Marquez, Derrick Gainner (United States), Roinet Caballero (Panama), and Hiroyuki Enoki (Japan).

And then six times through the choice fights against Jose Cheo Rojas from Venezuela, Tommy Brouwn (Australia), Osamu Sato and Zaiki Takemoto (Japan), Renant Acosta (Colombia), and last against Rocky Juarez from United States.

In fact at that time Chris John is scheduled to fight against Rocky Juarez on a rematch, but eventually postponed because John experienced respiratory interference problems or oxygen toxicity syndrome (oxygen intoxication).

Chris John experienced Respiratory disturbances during fifth round of his sparring in United States and at sixth round it has to be stopped by his coach to avoid more serious injuries.