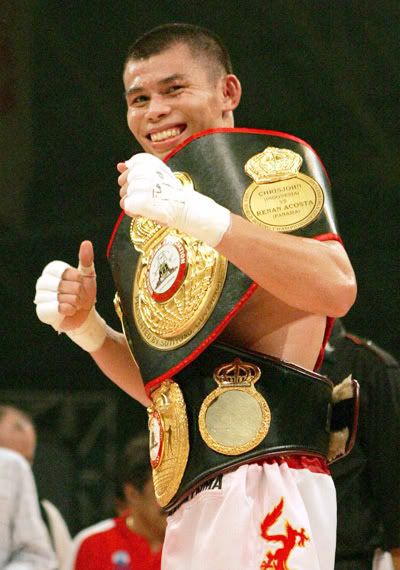 Chris John, Indonesian boxer who was Featherweight World Boxing Association (WBA) champion canceled the match against his challenger, Rocky Juarez, boxer from the United States. Chris John reported fainting during practice in preparation for the match.

Quoted from the ESPN site's news , Chris John was unconscious after making three rounds of sparring on Saturday. The match should take place at the Staples Center, Los Angeles, on next saturday (27 / 6).

Sampson Lewkowicz, Chris John's adviser said, "He is out. He has something with the blood that diminishes his capacity as an athlete. I don't know exactly what it is but he is feeling ill. He went to the doctor and he had a check up and he had a blood test, and something is wrong. I don't know exactly what it is but the doctor said he can't train or exercise. He was training, but was feeling fatigued and went to the doctor."

Doctors who was examined Chris John have not been to ensure about John's blood problems. Lewkowicz said John planned to see his doctor again on Monday for additional tests.

"He will stay in the States until we get a full and comprehensive treatment," Lewkowicz said. "It's a blow for all of us. I hope he will feel better, but he won't be fighting." Lewkowicz said John took the blood test required by the California commission before a fight two weeks ago and it came back fine.

"This is nothing like hepatitis or HIV or anything," Lewkowicz said. "It's something like anemia, like he's missing oxygen in the blood. When he did his blood test two weeks ago, he was fine. He took this one because he felt ill and they found out something was wrong."

Because the duel against Juarez stay a week longer, Chris John may not continue the match as scheduled. Chris John will stay in the United States for a while to get some treatments. Now the promoter is looking for replacements of Chris John, so Juarez can still make his show next Saturday.

Potential opponent is Mexico's Juan Carlos Salgado, who is regarded as a quality prospect. Even if they can sign Salgado for the fight, HBO would still have to approve of him as an opponent, Richard Schaefer, Golden Boy Promotions CEO said.