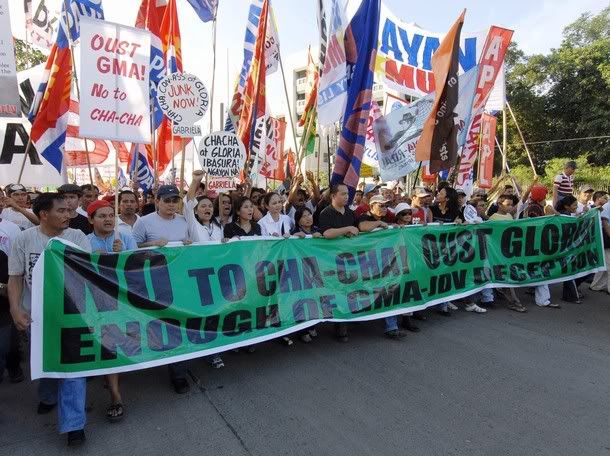 Fermin Lorico, A left wing activist died after being shot by unknown persons in the Philippines. The incident occurred only a few hours after he was criticizing the Philippines President Gloria Macapagal Arroyo through his speech.

Lorico attacked along San Jose Extension in Barangay (Village) Taclobo, several hours after leading the protest action against Arroyo in Dumaguete City, Wednesday, June 10. Lorico was a leader of local peasant union which allied with the left wing political group Kahugpongan Alang sa Ugma sa Gagmay'ng Mag-uuma sa Oriental Negros (Kaugmaon).

In his speech at the protest action, Lorico criticize President Arroyo and her allies. He accuses Arroyo makes plot with her allies in the House of Representatives to continue to maintain her power. Demonstration was attended by hundreds of left-wing activist, the opposition politicians and Roman Catholic church workers.

The motive of this murder is not known yet. But Juliet Ragay, Lorico colleagues in the union, alleged the attack was part of a government plot "aimed at annihilating critics of the administration."

Like in Metro Manila, protest rallies and marches in key cities nationwide Wednesday condemned President Gloria Macapagal-Arroyo and her allies in the House of Representatives for pushing through with their plan to amend the 1987 Constitution through a constituent assembly (Con-ass).

Protesters consider this Aroyo's initiative as a veiled attempting to lift the single-term limit on the Philippines presidency. Based on the current rules, Arroyo will be forced to step down from her position when her term ends in June 2010.

Protest actions elsewhere were generally peaceful. Some groups even tagged Charter change (Cha-cha) as a more dangerous threat to the people than the Influenza A(H1N1) virus, while others vowed to come out in even bigger numbers on Independence Day on Friday.