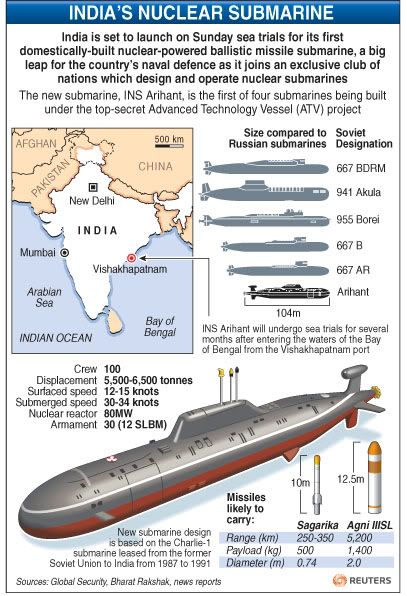 India launches submarine with nuclear fuel based, Arihant. The first nuclear submarine launched by India can also be launches ballistic rudal. Arihant made with hands of Indian people under Russian supervision. This nuclear-powered submarine will be tested at sea before officially used at the India's military in 2015.

"The project is part of the development plans of 5 submarine worth U.S. $ 2.9 billion, which is delayed for years due to technical problem," said an official at the India's Ministry of Defense, such as quoted by Reuters (26/7/2009).

Arihant with a nuclear fuel capacity reach 5500 tons, capable of carrying 100 crew and the ballistic missile and torpedo with a long cruising range, however Prime Minister Manmohan Singh, who attended the ceremony, said that it was not built to threaten India's neighbors.

India needs a respite defense in the sea to keep China's dominance in Asia. China is the largest trading partners of India, but India always worried over China's military growth. India worry China 'besieged' it with continued supply of weapons to Pakistan and Sri Lanka.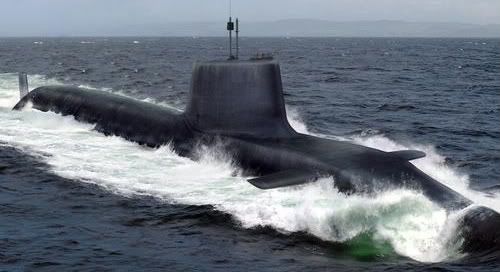 In addition, sporadic firing in Mumbai done by 10 shooters and killed 166 people in 2008 was signed in through the sea.

"Sea to be relevant in the context of security in India. We must prepare our military to change this environment. We do not have any sense of aggressive or threatening anyone. We see the influence from the outside, conducive to peace and protect our values," said Prime Minister of India Manmohan Singh after launching te Arihant nuclear-powered submarine trial.