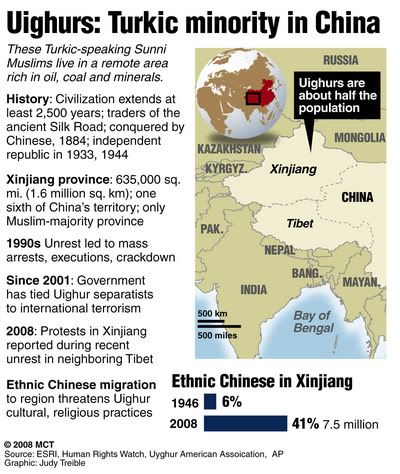 Great collision occurred between 3000 Uighur Muslim minority people and the Chinese police in Urumqi, Xinjiang, on Sunday night local time. As quoted from Xinhua on Monday (6/7/2009), as many as 140 people are reported killed and another 816 injured in the incident. The number of dead victims will be growing.

Police have been arresting hundreds of demonstrators, including more than 10 key leaders. Public Security Department of Xinjiang said, the police now still hunt 90 other Muslim leaders.

Witnesses said riot occurred when the police attempt to dismiss peaceful protest of Uighur people, who asks for investigation of the death of Uighur people in a conflict with the workers from the ethnic Han Chinese in the toy factory in Guangdong Province, South China, last month.

Incidents occurred after the rising tension between the Muslim Uighur ethnic minority with the authority of government dominated by majority of ethnic Han. Uighur residents admit to have economic and social discrimination by development policies of Beijing.

Uighur residents have marginalized systematically with the inclusion of ethnic Han Chinese to Xinjiang region, to exploit the oil, natural gas, and agricultural resources, as part of Beijing's policies.

Meanwhile, Beijing accuse Uighur residents often do terrorism actions in Xinjiang, and received training from the militants in Pakistan.