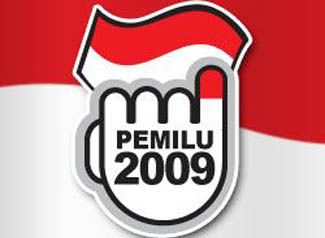 Indonesia is holding for its second direct presidential election today. 2009 Presidential Election followed by three couples of presidential and vice presidential candidates, Megawati Soekarnoputri-Prabowo Subianto, Susilo Bambang Yudhoyono-Boediono and Jusuf Kalla-Wiranto. Direct Presidential election in 2009, is the second direct presidential election held in Indonesia, post-reform in 1998.

Three pairs of candidates will give votes to the continuance of the Republic of Indonesia (NKRI) in next five years in the polling station (TPS) around their own residences.

Presidential candidate Megawati Soekarnoputri scheduled to cast her vote in TPS 026 near her residence in Kelurahan Kebagusan, South Jakarta. Megawati is also the former president will be casting with her husband Taufiq Kiemas and other relatives.

So even with a presidential candidate Susilo Bambang Yudhoyono who will cast with Mrs. Ani Yudhoyono in TPS in Cikeas, Bogor.

Meanwhile, presidential candidate Jusuf Kalla accompanied by mrs. Mufidah Kalla and other relatives will be cast their votes at TPS 015 Taman Karawang, Menteng, Central Jakarta.

While the vice presidential candidate Prabowo Subianto from Indonesia Democratic Party Of Struggle is scheduled to give votes in the TPS 01 Gombong Village / Kampung Cikeas, Koneng Bojong village, Babakan Madang Subdistrict, Bogor Regency.

Vice presidential candidate from Coalition of Democratic Party Dr. Boediono, cast his vote at TPS 096 Sawitsari Village, Sleman, Yogyakarta.

And vice president candidate Wiranto from Golkar Party coalition will be casting his vote at TPS 014 near his home in kelurahan Bambu Apus, East Jakarta.

2009 presidential election followed by 171,068,667 voters consisting of 169,558,775 people in 33 provinces in Indonesia, and 1,509,892 which are spread in 17 RI representatives abroad.

Implementation of the 2009 Presidential Election held in the middle of a chaotic number of voters listed in the Permanent Voter Register / Daftar Pemilih Tetap (DPT), which until the last seconds before the election on 8 July 2009, still continue to be addressed to accommodate potential voters.

Related to that, the Constitution Court legalize the use of Identity Card that accompanied with family card and passport for the people that are not listed in the Permanent Voter Register, to use their political right on Pilpres 2009.

2009 Presidential election will be held simultaneously start at 08.00 o'clock WIB to 13.00 WIB.