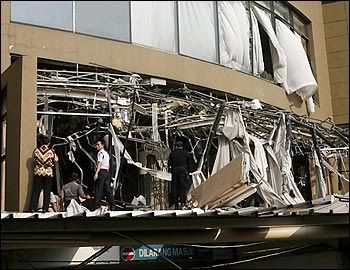 Muslim Lawyer Team / Tim Pengacara Muslim (TPM) states, blasting bombs at Hotel JW Marriot and Ritz Carlton Hotel in the Mega Kuningan, Jakarta is not related to the Jemaah Islamiya (JI). "Please, do not associate the bombings with Jemaah Islamiya organization," said a member of TPM, Fahmi Bachmid.

He asks for the police not to hurry to associates the incident linked to the groups or particular Islam networks. "No matter what the religion in the world, especially Islam does not teach violence," said a former of legal adviser for terrorism actors, Amrozi and his friends.

Related statement of President Susilo Bambang Yudhoyono in the Kuningan bombs was related to the implementation of the presidential election, Fahmi reluctant to give comment. "If the problem is associated with a political, not my comments, because I am not a political person," he said.

However, he was asking all parties to submit the bombing incident that killed nine people and wound 53 to the police. "Let the police work first. Before any disclosure of results, all parties should refrain from conjecture about the perpetrators," he said.

Previously, police have requested informations from 35 witnesses, in order to reveal the identity of the two suicide bombings in those two five-star hotels.

Jemaah Islamiya (JI) is an Islamic extremist group with networks operating throughout Southeast Asia. Members arrested in Singapore, Malaysia, and the Philippines have revealed that JI links with al-Qaeda.


The JI's stated goal is to create an Islamic state comprising Malaysia, Singapore, Indonesia, and the southern Philippines. Three Indonesian extremists, one of whom is in custody in Malaysia, are the reported leaders of the organization. JI began developing plans in 1997 to target U.S. interests in Singapore and, in 1999, conducted videotaped casings of potential U.S. targets in preparation for multiple attacks in Singapore.

JI network in Singapore acquired four tons of ammonium nitrate, which has not yet been found. In December 2001, Singapore authorities arrested 15 Jemaah Islamiya members—some of whom had trained in al-Qaeda camps in Afghanistan—who planned to attack the U.S. and Israeli embassies and British and Australian diplomatic buildings in Singapore. Additionally, the Singapore police discovered forged immigration stamps, bomb-making materials, and al-Qaeda-related material in several suspects' homes.

The exact numbers of JI are unknown but press reports approximate that the Malaysian cells may comprise 200 members. The JI has cells in Singapore and Malaysia; press reports indicate the JI is also present in Indonesia and possibly the Philippines.

In October 2002, a bomb destroyed a nightclub in Bali, Indonesia, killing 202 people. In August 2003, an Indonesian court convicted and sentenced to death a member of the Islamist militant group Jemaah Islamiyah for helping plan the attack. Although one-half of the people killed in the Bali attack were vacationing Australians, the convicted terrorist claimed subsequently through his lawyer that "the targets were the Americans and the Jews."