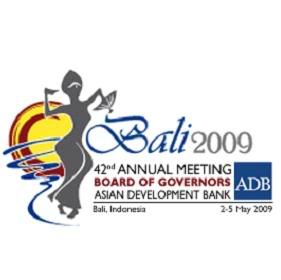 President Susilo Bambang Yudhoyono officially opened the 42nd annual meeting of the Asian Development Bank (ADB) in Nusa Dua Bali, on Monday 4 may 2009.

In his speech, President Yudhoyono said that this Asian Development Bank annual meeting for the 42 times is a historic event, because it was held when world is experiencing deep economic crisis and in the unexpected development.

"This year, the ADB's board of governors meeting become very important to show that ADB has the ability and flexible to meet the needs of its members in the present and future", he said.

Yudhoyono said that this ADB meeting should produce a clear resolution, and so indicates that the ADB is ready and able to deal with this serious challenge. The President explained that the global financial crisis at this time will bring the world communities to face a new world.

"Our economic conditions in the future will not be similar. Economic future will be full of challenges. We need something for them and make some innovation. And I believe if we work together we will be successful," President said.

ADB was established first in 1966, and Indonesia is one of the founders state. This ADB meeting in Bali, is the second time that be held in Indonesia, after in 1976 was held in Jakarta.

Indonesia is the largest customer of the ADB, and since 1966 Indonesia has received 297 loans worth 23.5 billion U.S. dollars and 498 technical assistance projects worth 276.6 million U.S. dollars.

In the period of 2000 - 2007, average annual ADB lending to Indonesia was around 700 million U.S. dollars, even in the year 2008, the ADB loan funds is 1085 billion U.S. dollars.