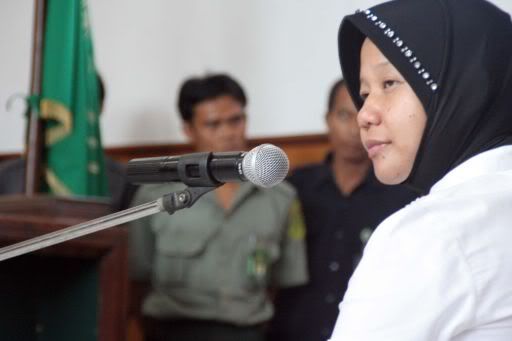 Judges of Tangerang District Court, led by Karel Tuppu stops the libel cases alleged to Mrs. Prita Mulyasari by Omni Internasional Hospital, Tangerang. Judges received the exception proposed by Prita Mulyasari and rejected the General Prosecutor indictment. Prita Mulyasari admitted that she is very grateful with the Judges's decision, but the prosecutors claims disappointed.

"We are not satisfied with the verdict," said Prosecutor Riyadi, after hearing on the Tangerang District Court, Thursday 25 June 2009. Prosecutors, Riyadi added, will submitting a verzet or resistance to verdict. How? "We will improve the indictment and re-alleges Mrs. Prita Mulyasari," Riyadi said.

By consideration in the gap decision, judges of Tangerang District Court considering that indictment against Prita does not comply with the actual criminal law is used. So, the Prosecutor's indictment has to be canceled in order to law, the judges decided not need to go to the principal points of this case.

Chairman of the Judicial Council Karel Tuppu said "Judges granted exceptions from Prita Mulyasari's legal adviser. secondly, fulfills requests from accused's legal adviser, and Third set all costs of this trial charged to the state."

Previously, Prita Mulyasari indicted with layered article, namely Article 310 of the Criminal Code on libel threat with the 1.4 year prison sentence, Article 311 Criminal Code on libel in writing with the threat of 4 years imprisonment, and Article 27 Paragraph 3 of ITE Law with the threat of 6 years in prison and fined Rp 1 billion.

This case began when Prita examined her health in the Omni International Hospital on 7 August 2008. Prita was complaining about the services provided by Omni International Hospital and the doctors who treated her via electronic mail to some of her colleagues.

Then Omni International Hospital felt that their company's good name has been stained by the electronic mail made by Prita spread in many mailing lists. Not only required to pay Rp 261 million, because she has been defeated in the civil cases, Prita also had a detention for 21 days since 13 May 2009.