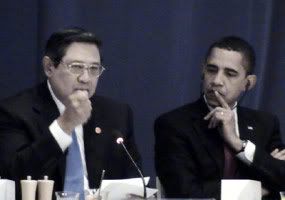 President of Indonesia Susilo Bambang Yudhoyono
and
U.S. President Barack Obama
communicated at some length on the sidelines of the
G20 summit in London
. They both look familiar. In fact, President Obama tapped on President SBY shoulder at that time.
"Capek ya? (Are you tired)" President Obama said.
That moment occured during a working breakfast at the Excel Building, place of the G20 Summit, Thursday 02 April 2009. President SBY said," I am ok."


According to President SBY which told to journalists on Garuda flight from London to Dubai, Obama is still remember a number of Indonesian vocabulary. However, Obama which lived in Jakarta about five years claimed to be learning more Indonesian Language.

Obama respects the presence of SBY in G20 Summit, even though Indonesia is currently preparing for elections and the Presidential Elections.