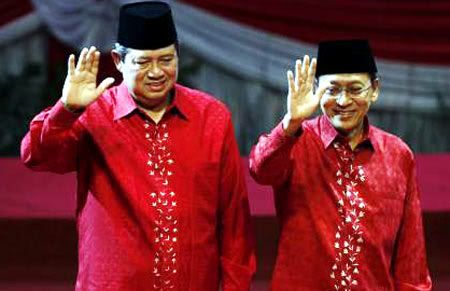 Chairman of the Executive Board (Dewan Pembina) of Democrat Party, Susilo Bambang Yudhoyono and Governor of Bank Indonesia, Boediono, officially declares themselves as candidates for president and vice president of Indonesia. They use SBY Berbudi as a slogan for the next presidential election. Declaration of this pair was held in Sasana Budaya Ganesha (Sabuga) building, Bandung, Friday (15/5) evening.

President SBY explain why he choose Boediono as vice presidential candidate. He has confessed to know Boediono during the last ten years. Including, when Boediono become Minister of Economic Affairs Coordinator. "I Assess Mr. Boediono as a straight Muslim, honest, simple, consistent and tolerant. a smart technocrat, a hard worker and a responsible person." President SBY said.

SBY feel sure that Boediono is the right person to assist him as vice president if re-elected to lead Indonesia for the period 2009-2014. Boediono also considered to be able to help overcome the economic crisis, including the national economy and welfare of the people. Boediono even considered able to create clean governance, responsive, corruption free and responsible.