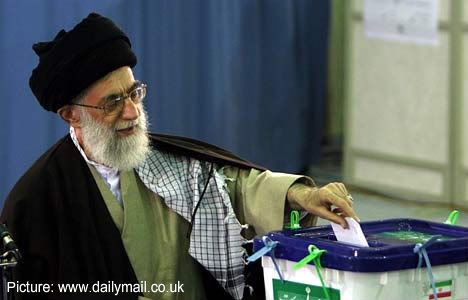 Iran held a presidential election on Friday june 12 2009. More than 45 thousand polling stations opened across that Islamic republic country.

In this presidential election, Incumbent President Mahmoud Ahmadinejad who is a hard-line conservative will compete with pro-reform candidates, Mir Hossein Mousavi, one of the Iranian figures known more open to improve relations with Washington.

Mousavi is the main rival for President Ahmadinejad. Mousavi had become Iran's prime minister in the 1980s.

According tradition, Iran's supreme leader Ayatollah Ali Khamenei casting his vote in the white ballot box several minutes after the poll station opened. Khamenei calls for Iranian citizens to ignore the various rumor about the election.

"We hope that the people who gather in poll stations can choose the best and the most deserving person to lead the powers of the executive body for the next four years," Khamenei said.

"If some people intend to create tension, this will endanger the public. Do not listen to rumors," Khamenei Added.

Both of the strongest candidates claimed victory in the first round as polls closed.

Mir Hossein Mousavi said he was the "definite winner" and alleged that there had been widespread irregularities. But almost immedietely afterwards, President Ahmadinejad announced that he had won.

If no one of these candidates gets a simple majority or 50 plus one percent in the first round, the two front-runners will face a run-off vote on Friday, June 19.

The election is being watched closely around the world for signs of a possible shift in Tehran's attitude.

President of U.S. Barack Obama said he was "excited" about what was happening in Iran, which showed change was possible.

"Ultimately the election is for the Iranians to decide," Obama said.

"You're seeing people looking at new possibilities. And whoever ends up winning the election in Iran, the fact that there's been a robust debate hopefully will help advance our ability to engage them in new ways."