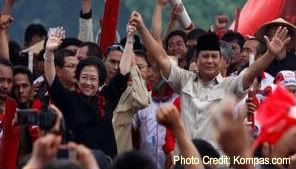 About 20 thousand people attended the declaration of Mega-Pro, Megawati Soekarno Putri as the presidential candidate and Prabowo Subianto as vice president candidate in the area of Solid Waste Final Disposal / Tempat Pembuangan Akhir (TPA) Bantar Gebang, Bekasi, West Java, Sunday (24 / 5).
Chairman of the Local Executive Committee, Tumai, at Bekasi, said that thousands of people are cadres and sympathizers of Indonesia Democratic Party of Struggle (PDI Perjuangan), and Greater Indonesia Movement Party (Gerindra).


In addition there were also nine parties that supporting Mega-Pro coalition, among others The Functional Party of Struggle (Partai Karya Perjuangan), The Sovereignty Party (Partai Kedaulatan), Labour Party (Partai Buruh), Independence Party (Partai Merdeka), Nahdlatul Ummah Unity Party (Partai Persatuan Nahdlatul Ummah (PPNU)), Indonesia Union Party (Partai Syarikat Indonesia (PSI)), Indonesian Welfare Party (Partai Indonesia Sejahtera (PIS)), and Indonesian National Party Marhaen (Partai Nasional Indonesia (PNI) Marhaen).

"The people who attend beyond our estimation. Originally we targeted 10 thousand people, but to 11.00 WIB presented more than 20 thousand people of cadres and sympathizers, party supporters and the community," Tumai said.

The Mega-Prabowo declaration event conducted on the land of C three zone Bantar Gebang area of approximately 1.5 hectares, equipped with a main stage measuring 40x10 meters and two stages measuring 20x5 meters and also equipped with sound amplifier system.

Thousands of banners and flags to support Mega-Prabowo installed along the routes to TPA Bantar Gebang. East of the main stage there was a giant red and white flag 100x70 meter size and thousands of red and white balloons.

Around 1000 a combination of military officers, police, Satpol PP, Department of Transportation, the party task force, and Community Organization from Forum Betawi Rempug (FBR) participate in the event to secure this Mega-Pro declaration.