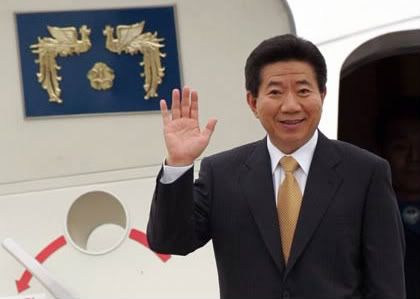 Roh Moo-Hyun, Former President of South Korea can not survive after the fall during a mountain climbing in the area of Gimhae, saturday (23/5). Yonhap news agency reported, police are searching for a certainty whether the Roh Moo-Hyun drop due to pure accident or there is a possibility of suicide. Until now, the results of the Roh's corpse autopsy has not been released to the public.

One of the official of National Police Agency of South Korea does not want his name mentioned explain, Roh Moo-Hyun experience severe bleeding in the head and exhale the last breath when brought from Gimhae to a hospital in the city of Busan, southern South Korea.

Roh and his wife had been under investigation for having received bribery money from Park Yeon-cha, general administrator of Taekwang, a large shoe manufacturer. His wife, Kwon Yang-sook, was scheduled to face re-summons today. The prosecution was planning to indict him for bribery next week.


Roh Moo-Hyun served as president of South Korea from 2003 until 2008.